Food Crisis
Population affected:
>20 million
Funds raised:
In Progress
Beginning of the appeal
March 3, 2017
A number of countries are on the brink of potentially catastrophic famines including South Sudan, Yemen, Somalia, Nigeria, Ethiopia and Kenya. Despite numerous warnings, more than 20 million people are at risk.
Famine is not inevitable nor spontaneous. It is a slow process, often the result of complex causes. It begins slowly, silently, and then cascades into a large-scale disaster.
These crises are preventable but immediate action is needed.
Our member agencies need your help to provide life-saving aid such as food and water.
South Sudan
"Sometimes I feel so weak, I worry I will not have enough milk for the baby. Sometimes I'm so weak I feel like I'm going to collapse, I can't see when I stand up." - Martha Nyandit, a 42-year-old mother six
The United Nations declared a famine in northern-central parts of South Sudan in February, reporting some 100,000 people facing starvation, with millions more in urgent need of assistance. People have been pushed to the brink. Half the population of the country, 4.8 million people, do not have enough to eat because of drought and the inability to harvest crops. That number could rise significantly if nothing is done now.
More humanitarian aid and unfettered access to those affected is urgently needed to help reverse the famine.
Yemen
Close to 70% of the country's population, 19 million people, are in need of humanitarian assistance. An ongoing conflict has left the country ravaged. Tens of thousands of people are either trapped in towns besieged by shelling and airstrikes or have fled their homes searching for safety.
Humanitarian aid agencies are mobilizing life-saving aid, such as water, shelter, food and medical supplies, but intense fighting is hindering access to many people in need.
More than 7 million people in Yemen do not know where their next meal is coming from and are going hungry. Hospitals and health clinics are overcrowded, with estimates showing 3.3 million children and pregnant or lactating mothers are acutely malnourished and almost half a million children under 5 are suffering from severe acute malnutrition.
Somalia
"The rains provided a decent life. We earned and we ate daily. All that is no more. There is little hope for us." - Qaali Ali (female), 44 years old, Sool region.
The country is facing an intense drought, leaving more than half the population, or 6.2 million people, in urgent need of humanitarian assistance. Children are particularly vulnerable, with more than 350,000 acutely malnourished and in need of critical nutritional support. The UN has warned that 50,000 children are now facing death, with more than 1.1 million people suffering from acute water and food shortages these days. Those numbers are increasing daily.
In the worst affected areas, lack of water has wiped out crops and killed livestock. The significant worsening of malnutrition cases point to an imminent crisis. An influx of refugees fleeing neighbouring Yemen, which is facing its own crisis, has exacerbated the situation.
Nigeria
Since conflict erupted in northern Nigeria eight years ago, the country has steadily spiraled into a humanitarian crisis. The conflict has claimed more than 20,000 lives, and almost 7 million people are in need of humanitarian assistance, more than half of these children. Without assistance, more than 5 million will face serious food shortages this year.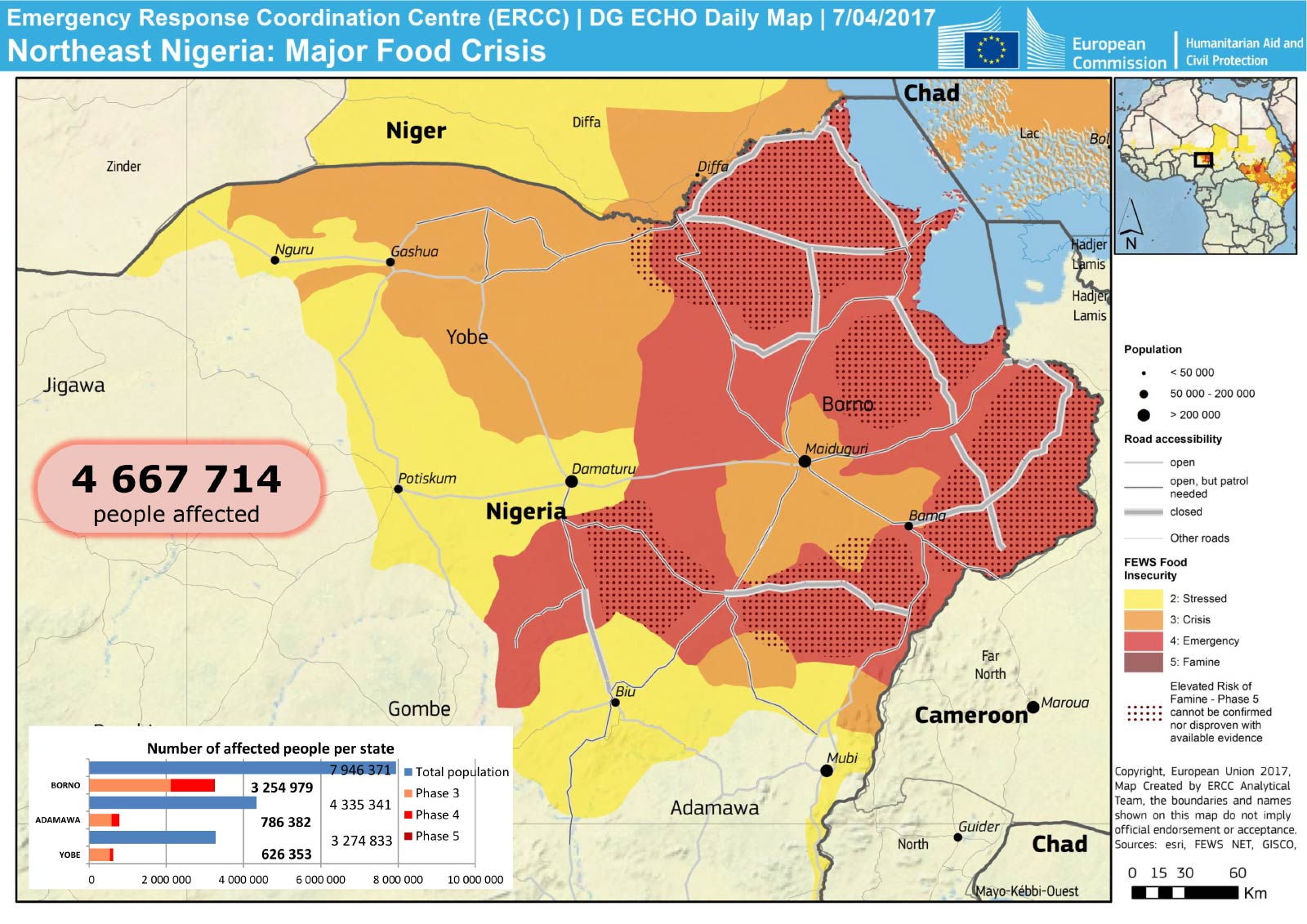 The food scarcity situation is made worse by the disruption to and lack of basic services such as clean water and shelter, leading to increased likelihood of disease.
Because of the conflict, some parts of the country are too dangerous for aid agencies to operate.
Kenya
On February 10, the Government of Kenya declared drought affecting 23 of 47 counties a national disaster. An estimated 2.7 million people are at risk of hunger. More than 350,000 children and pregnant and lactating mothers are acutely malnourished according to OCHA.
A devastating El Nino weather pattern resulted in below average rain season affected agriculture and livestock production, reducing supply and in turn increasing prices.
An estimated 2 million school children are affected by the drought.
Ethiopia
The country is in the midst of one of the worst droughts in decades. It's estimated 5.6 million people will require food assistance; 1.2 million children and pregnant and lactating mothers will require supplementary feeding; 9.2 million people will be without safe drinking water and 2.4 million households will need livestock support.
Compounding the situation in the country is the severe drought and conflicts that have led to mass migration as people seek food, water and safety.
In Ethiopia, the drought is forcing many children to drop out of school, leaving them at risk of early marriage and forced migration.
While the Ethiopian government worked to mitigate the effects of last year's drought, the country is appealing for $1.25 billion in funding – of which it has already committed over $62 million – to help 5.6 million people in need.